COVID-19 in China
October 15, 2022
Chinese President Xi Jinping has given no indication that the upcoming 20th party congress will herald a shift in pandemic strategy and eradicating COVID is still the paramount goal. This despite the fact, that politicians and experts all around the world warn of the risks to economic growth and social cohesion.
Such warnings may not be well meant advise but the attempt to divert from the failings of health policies in other countries based on herd immunity, on vaccination and nothing else, and on the hypothesis of "living with COVID."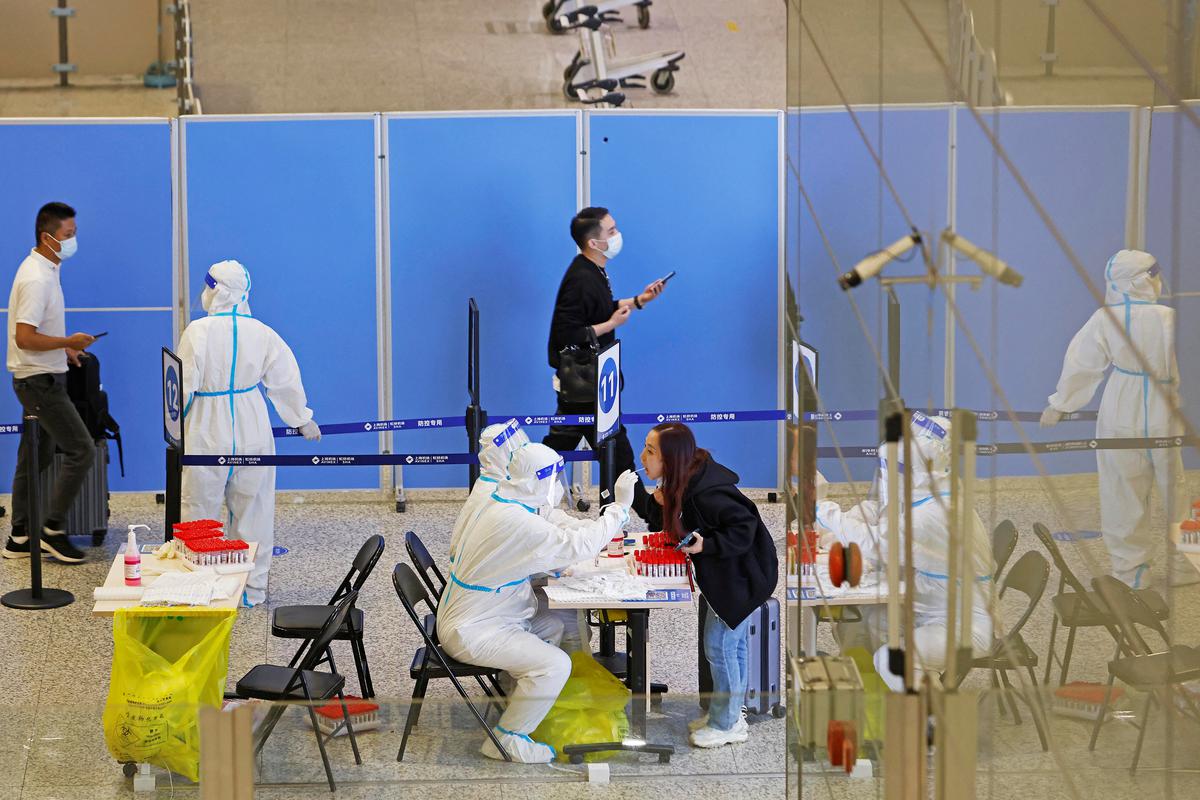 Cases in China unfortunately are rising again, new Omicron variants have entered the country, and Shanghai is seeing more targeted lockdowns. Official media nevertheless are making clear that dynamic zero-Covid is the correct policy and is not going away.
On October 9 Chinese authorities reported 373 locally transmitted confirmed COVID-19 cases, including 119 in Inner Mongolia and 70 in Xinjiang. In addition to that a total of 1,566 local asymptomatic carriers were identified.
In Shanghai a rise of cases has seen neighborhoods locked down and buildings barricaded with the green fences that were a feature of the financial hub's extended shutdown earlier this year. The districts of Putuo and Changning have shut entertainment venues, while some places in Minhang have been designated as "medium risk", meaning residents are restricted from leaving their compounds.
Anyone traveling to Shanghai will need a negative Covid result within 24 hours of arriving in the city and will have to do three tests in three days, officials said at a briefing on Monday.
The northern city of Hohhot is battling the country's first outbreak of the new Omicron subvariant BF.7, while the new Omicron subvariant BA.5.1.7 has been identified in  Guangdong Province. Both variants ares thought to be more transmissible and better able to evade the immune system.
Commentators in other countries and also inside China insist that insistence on dynamic zero-COVID is too costly and a more passive approached should be pursued to achieve coexistence with the virus. But the Omicron virus variant is by no means just a "severe flu," and its spread is fast. For vulnerable groups, especially the elderly with underlying diseases, the severity and fatality rates are still high.
A massive new UK NHS study found that after a COVID infection there are huge increases in blood clots that cause heart attacks, strokes, and other severe clotting events.
There is also the danger of long-time sequela like chronic fatigue, irregular heart rhythms, and mental health problems (like brain fog). In nations where nearly everyone has been infected with COVID, the aggregate impact of these nearly ubiquitous longtime ailments will reduce productivity, impede innovation and technological progress, and jeopardize the harmonious functioning of society.
The economic costs of COVID
From June to August, business activities were recovering at an accelerating pace from the last round of COVID outbreaks, so production and demand expanded quickly. But in September, COVID outbreaks emerged in many areas and containment measures were tightened, impacting both services supply and demand.
Travelers in China made 422 million trips during the National Day holiday between Oct. 1 and 7, down 18 percent from a year earlier and 39 percent lower than in 2019.
Tourism revenues diminished by an even larger margin, dropping 26 percent from last year to the equivalent of about 40 billion US$ during the holiday, which is typically one of the busiest travel seasons of the year. Tourism spending was less than half of the level in 2019.
Handwringing economic experts may warn about reduced GDP growth or maybe even an economic contraction, but while profits of big companies will be reduced, nobody, even the ones at the very bottom of society, will starve. Furthermore: Diminished consumer spending and tourism will certainly reduce industrial emissions and other negative ecological impacts.
China is different
After two and a half years of zero-tolerance policies, Beijing has created a situation in which a very high percentage of its population has never been exposed to the virus. According to official figures, China thus far has accumulated 996,000 infections. Even taking into account the potential problem of underreporting — which is not a major concern in view of China's centralized PCR testing system — this figure shows that only a very small fraction of its population has been infected and therefore carries some natural immunity. In fact, the Chinese Center for Disease Control and Prevention (CDC) itself has acknowledged what it calls, "China's nearly unique situation of having only vaccine-induced immunity."
If China holds firm on its zero-COVID strategy, it will have a population of 1.4 billion people, mostly not impeded by long-COVID and in average healthier than the populations of all rival nations.
This will have a decisive geopolitical impact.